MSI Gaming app
MSI Gaming app is Gamer's best choice to improve their gaming experience.MSI Gaming app is very popular  Gaming app.Download MSI Gaming App – The Gaming App exclusively from MSI is especially designed with the mass gaming market in mind.

There are three different modes in MSI Gaming app
OC Mode
Maximum Performance through higher clock speeds and increased fan performance.
Gaming Mode
The best balance between in-game performance and silence
Silent Mode
The best environment for minimal fan noise
Gamers will be able to switch to the high performance gaming mode with just one press of a button without the need for dedicated hardware, know-how, or having to jump through hoops. In this mode, the extra cooling performance ensures a smooth performance for all games. In the power save mode, the graphics card operates in a low power state to silence the fans for a comfortable Internet and working environment.
The first method is the MSI Gaming App. This is a simple, small in size, overclocking tool for the GPU. It has three modes in total.
Treat your eyes!
Clicking on the little eye icon in the top right tab will allow you to adjust the screen contrast to the visual experience you need. Simply open the tab and select one of the following modes for a better visual experience.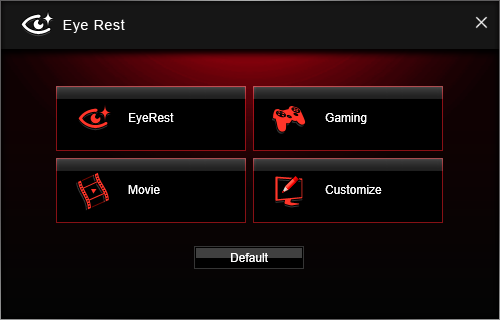 You can join MSI Gaming Community to help each other spread joy
MSI Gaming app is very best gaming app that every gamer should try once to improve their gaming experience